Fred's Biography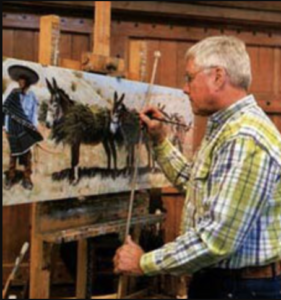 Born in Ponca City, Oklahoma, Fred Fellows lived his early years exposed to the 101 Ranch and the culture of the Otoe and Osage Native Americans.
At age nine his family joined the tail-end of the Okie exodus that followed the dust bowl trail to California but each year Fred returned to Oklahoma where he spent summers with his grandparents in their art-filled home.  His grandfather a celebrated civil industrial engineer in Ponca City would take his family frequently to nearby museums.  Fred was awe-struck by Bryant Bakers Pioneer Woman monument in Ponca City.  Although he did not realize it then, Fred's fate as a future artist had been cast. He had an active imagination and a God-given talent for drawing.
In the '50s while living in California Fred learned to handle horses, to rope cattle, and build saddles. He was a cowboy, determined someday to break loose and be free.
Encouraged by his stepfather to apply his artistic talent for commercial illustration, he honed his art skills at Art Center School in Los Angeles and began a successful career in the aircraft industry, first working as a commercial artist and eventually becoming art director for Northrop Aircraft.
For more than a dozen years Fred's dream of becoming cowboy-free was hobbled.
He enjoyed the work but longed to try painting on his own.
"I saved my money for a few years and then moved to where every artist must go, Taos New Mexico," said Fellows.  "When the money ran out I went back to Los Angeles for another grubstake.  After a couple of years, I went off on my own again to Bigfork Montana and stayed for forty years."
Fred was able to realize his ambition to become a full-time artist but not without challenges. With his wife Jackie and collectively five children, early on he traded his paintings for groceries and doctor bills.  By the late 60's he had established a sound regional reputation and was breaking into the mainstream market in places like Scottsdale, Arizona.
In 1969 he was invited to join the Cowboy Artists Of America. His horseback perspective of art captured the true pulse and rhythm of cattle, horses, and men that he portrayed.   Life and art were inseparable.
Creating art has been working for Fred ever since.
His art goes beyond contemporary scenes.
Over the years he has put together an extensive research library and collection of artifacts dealing with the Old West.   He has become an acknowledged authority on buffalo guns, Bowie knives, Indian weapons, and historic saddles.
In 1989 Fred lost his wife of 28 years to illness.
With a will to go on, Fred got another chance at love and life.  In 1990 he married Deborah Copenhaver and became a father again to her seven-year-old daughter Fabienne.  In 2000 he left Montana and moved his family to Sonoita, Arizona.
He cowboys now on his own place, where they raise Quarter Horses and team rope.
Fred has won gold and silver medals in all media: painting, sculpture, watercolor, and drawing.
In 2007 he received the CAA Award for the best overall exhibition voted on by all of the active CAA members.
His paintings have been featured on the cover of 17 issues of the Western Horseman Magazine as well as articles in Arizona Highways, Newsweek, Southwest Art, Art of the Rockies, and Western Art Collector.
Visit
Fred's
Permanent Collections
Paintings and Sculptures
The Buffalo Bill Historical Center

 

in Cody, Wyoming
Gilcrease Museum

 

in Tulsa, Oklahoma
Phoenix Art Museum

 

in Phoenix, Arizona
Booth Museum of Western Art

 

in Cartersville, Georgia
Museum of Western Art

 

in Kerrville, Texas
Desert Caballeros Museum

 

in Wickenburg, Arizona
Montana Historical Society

 

in Helena Montana
Monuments
McNeese State University

 

in Lake Charles, Louisiana
University of Texas

 

in Midland, Texas
Paniolo Monument

 

in Waimea, Hawaii
Ruger Corporation

 

in Prescott, Arizona
Booth Museum

 

in Cartersville, Georgia
Museum of Western Art

 

in Kerrville, Texas
First National Bank in Sheridan, Wyoming